Frank Carzo
Executive search exec creates his own dream job
By ELENI CHAMIS
Staff Reporter
How do you get a top Oracle executive to talk to you?
Tell the executive assistant you're calling about Frank Carzo.
"Oh yes. Mr. Carzo," the friendly voice says, "One moment please."
Seconds later, the executive is on the other end of the phone.
Frank Carzo has power.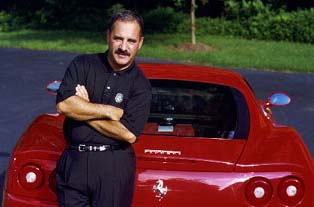 Executive headhunter Frank Carzo accepts nothing but the best for his clients and himself. He's the consummate professional, they say. A man they trust. A man who takes the time to get to know what they want and unfailingly gives it to them. A man who enjoys the finer things in life and is a loyal friend.
Carzo, a stylish, engaging, soft-spoken guy with a love for cars and cigars, is an executive search recruiter. But his searches are anything but typical.
He fills critical senior-level positions for a handful of notable heavyweights, including Oracle, Sun Microsystems, Northrop Grumman, Lucent, and Federal Mogul. The minimum base salary requirement is $150,000, but he has placed some with salaries of more than $1 million. The average search takes about three months.
Since he founded the company in 1997, he has placed about 60 executives.
"He actually makes you feel like he's an extension of you," said Jay Nussbaum, a senior vice president at Oracle. "Over the years, he's built confidence that he'll find the person."
"He has the uncanny ability to bring balance to a team. ...By themselves, they're all good. In a team environment, it's that much better."
Carzo has found four of the nine members of Nussbaum's senior staff.
One of those people was Oracle Senior Vice President Bill Hoover. "He believes very strongly in what he's doing," Hoover said. "He also has an ability to work well and effectively, a desire to help people, and he does it all with the idea of getting the deal closed. He's an ideal recruiter."
'A label guy'
Carzo often spends hours with clients to find out exactly what they want and ensure he finds candidates with the right chemistry.
"He has had several contracts with me, and he has delivered fabulously," said Reggie Brown, the vice president of solution sales at Oracle, who worked with Carzo at Xerox. "He's proactive, has tremendous acumen and is a great leader. Many HR people tell you you can't do things. Frank is the type who would say, 'This is how you get it done.'"
"And, if you ever told Frank Carzo anything, it stayed with Frank Carzo."
He's also a devoted family man who is trying to talk his daughter into moving back to Virginia from San Francisco, where she works for Oracle.
Carzo drives a Ferrari, a red one from Italy he special ordered two years ago.
"He does not know how to drive," said Ralph Crosby, a president at Northrop Grumman, with whom Carzo has placed two executives. "He spazzes out."
He made another good friend, D.C. restaurant owner Fabrizio Aielli, when he bought a Porsche from him.
"Yep, always been a car guy," said best friend John Marino. "He had a little MG Midget in college. It was about the image. I had a black station wagon."
Carzo also has a Mercedes ML430 and an S430 (both black). He and his son rebuilt a 1967 Corvette that became a show winner.
His office, in a suite above K Street, NW, is plastered with reminders of his past - family photos, New York Yankees memorabilia. A potbellied stove from the basement of his childhood home. A drawing of the same house. A car from an Adolphus train set. Italian masks. Cigar boxes. A 200-year-old mahogany grandfather clock.
He has nine model cars, with trunks, hoods and doors that swing open - Porsches, Ferraris, an Aston Martin. Carzo loves to show them off.
"He's a label guy. He know labels," Marino said. "Whether it's electronics, clothing, automobiles, he has a sense for that. He loves to shop."
No second chances
Carzo was born into an Italian Catholic family in Utica, N.Y.
"It was a blast," he said. "We would have contests on the block. You know, one cocky kid would say, 'I'm the fastest,' or the smartest or the toughest. And you had to prove it right there, on the spot."
His father, Joseph, worked in a paint and hardware store, eventually becoming a minority owner. His mother, Marie, was the head emergency room nurse.
"We used to have football games on Sundays, and almost every week somebody would get hurt and have to go to the hospital for stitches," Carzo remembered. "She would just roll her eyes when we came in."